Nokia refutes rumors that it's leaving Finland
10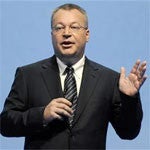 Ever since Stephen Elop, the first non-Finn to become CEO of Nokia, left his position as president of Microsoft's Business Division to join Nokia, there has been chatter that he may move the company to the United States.
With the company experiencing decline, then cutting thousands of jobs in Finland, the speculations did not seem that outlandish. For those that thought these events would cause Elop to considering moving the headquarters out of Finland, on Sunday, he put the kibosh on the rumors by saying, "As long as I am the CEO, the headquarters is in Espoo. That's our home, our sense of belonging."
In other words, Nokia's not going anywhere – geographically speaking.
source:
Reuters