Nokia recalls 46 million batteries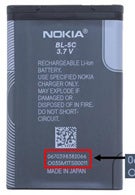 Nokia today announced it is recalling about 46 million BL-5C batteries, from a total of about 300 million produced. The recalled batteries were produced by Matsushita between December 2005 and November 2006. There have been approximately 100 incidents of over heating reported globally. No serious injuries or property damage have been reported.
The BL-5C batteries were used in a number of Nokia phone and devices including N70,N71, N72, N91, E50 and E60. If your battery is part of the recall, it will be replaced for free.
To check if you battery is one of the 46 million with the overheating issue, please go here:
http://www.nokia.com/batteryreplacement/en/