Nokia N95 US Version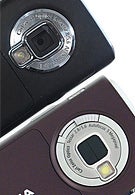 As it was expected, the design is slightly changed by rearranging the camera flash, removing the open/close switch and making the music-keys relief.
Earlier rumors pointed that this version will have stronger battery, but we cannot confirm this for the moment. Still it is not officially announced and there is no information on pricing and availability.
Nokia N95 Review
Nokia N95 US Specifications