Nokia N900 gets another Firefox release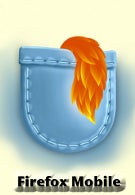 The popular Firefox browser had its mobile version appear on Nokia's Maemo devices first, and now an update is in tow. Version 1.1 now allows for portrait browsing (wait, that wasn't there before?!), saving pages in PDF form, as well as zooming in and out via the volume rocker.
Mozilla has also added a way for Firefox add-ons to update themselves automatically on the Nokia N900 and N810. If any of the added goodies above makes you crave for Firefox 1.1 on your Maemo device, have a look at the video of it in action below.
The update can be downloaded by visiting Firefox.com/m from your device's browser.
source:
GSMArena