Nokia N86 8MP has kickstand that launches apps on the device
This article contains unofficial information.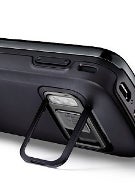 When is a kickstand more than just a kickstand? When it belongs to the Nokia N86 8MP handset, that's when. Instead of just holding up the device at a very suitable angle for reading the screen, once the plastic tab is pulled out it launches a selected app from the phone such as the video and music players or the internet browser to name just a few. Other devices also have unusually placed on/off switches such as the HTC Touch Pro/Touch Diamond where a pull of the stylus out of its magnetic holder will wake the phone up from sleep mode.
Nokia N86 8MP US Specifications
|
Hands-on
source:
Symbian-Guru