Nokia N8 taken to film underwater on the cheap
4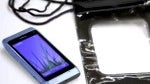 Take that, expensive underwater cases. A few-dollar splash bag is all that was needed to videotape tropical fish along the Sharm el-Sheikh coast with a
Nokia N8
.
It is these defining moments shooting fish underwater when a man realizes how important it is to have a dedicated camera button on your handset.
The author talks nonchalantly about the "
amount of light and detail I was able to capture
", whereas if it were us, we would have freaked out just imagining the numerous scenarios water could have rushed in, and voided our warranty.
We are pretty sure there is a section in the manual titled "Don't take your phone underwater to film tropical fish, no matter how shiny they look."
source:
Vimeo
via
DailyMobile
N8 Underwater from maxhd on Vimeo.