Nokia N8 survives crash test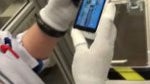 Nokia N8, the Finnish company's secondcoming for many, shows some great durability in the ever entertainingdrop test. The test simulates your phone's landing when dropped adozen times from about the height of a shirt pocket. It seemsperfectly functional after all the torture so you should not beworried, the anodized aluminum body is rock solid.
Not that we haven't seen folksalready disassemble and repair it but that'sjust one more reason to trust Nokia's build quality with this one.Actually, with a global network of ten test centers and anoverwhelming 200 mechanical tests for different handsets, we couldguess that the only thing Nokia ismissing is a grilling test. And we don't insist on one.
In the meantime, you can check out allthe answers to your questions about Nokia's latest flagship in ourin-deptht review here.
source: SymbianFreak

Recommended Stories