Nokia N75 3G Smartphone for Cingular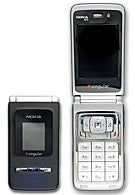 The FCC just approved the N75, Nokia announced at their Open Studion in New York, a month ago. It was clear that the N75 clamshell phone is targeted to the States, as it supports only American UMTS 3G frequencies (850 and 1900 MHz), and Cingular is the only 3G GSM carrier in US now, we knew it will be the one to launch the phone. The images on the FCC site clearly show the Cingular logo all over the N75 – both when opened and closed.
Nokia N75 for Cingular
Nokia N75 is quad-band world GSM and American 3G smartphone in clamshell design with music-dedicated keys on the front and two color displays. It has 2-megapixel camera, large 16-mln color QVGA Internal display and runs on Symbian operating system.
You can read its complete specifications here
Source: FCC