Nokia Lumia 625 comes with a new generation of polycarbonate shells
25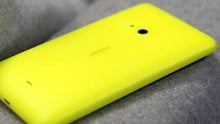 Nokia just announced the largest screen in its WP8 stable with the 4.7"
Lumia 625
, which could be a good stopgap measure until Microsoft finally masters the Full HD screen support of its mobile OS.
It turns out that the colorful interchangeable shells that the Nokia Lumia 625 will be available with have been given additional thought compared to the first polycarb iterations of Nokia.
They are
translucent
, like on the
Lumia 620
, and the paint is layered with an inner color for a "warm glow" look, while the matte finish adds to a more human feel in the hand. Pretty good results, we'd say, showing that Nokia isn't resting on its laurels when it comes to the use of deep-colored polycarb in its signature pillowy Lumias.