Nokia Lumia 1520: all new features
20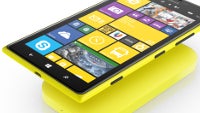 The
Nokia Lumia 1520
has finally broken cover and it is Nokia's first phablet, a device with a gigantic 6-inch display, an ambitious 20MP PureView camera and top of the line Snapdragon 800 system chip.
The Lumia 1520 throws in a few neat features like wireless charging, awesome audio recording and advanced camera features, and if you are not scared of its size and AT&T exclusivity in the United States, those would definitely sound alluring. However they are not all that's new in Nokia's first effort in phablets.
We've summed up all novelties and essentials there are to the newcomer Lumia 1520 in the slideshow below, take a look.