Nokia Lumia 1020 Preview
72
Camera:
Let's get into the nitty-gritty folks! We've detailed the technology behind its 41-megapixel PureView camera, so now we'll just briefly talk about the things that matter most with it – functionality and quality. With the former, we're digging the new Nokia Pro Camera app that's used by default when we long press on the shutter key. Whereas the stock Windows Phone 8 camera app is pretty barebones with its features set, the Nokia Pro Camera app blows it out of the water.
Seriously, hardened photographers who know their thing will undoubtedly appreciate what's presented. From having the ability to select different modes, to more advanced functions like
modifying exposure, ISO, shutter speed, and focus
, there's a lot of fun to be seen with it. When it comes to video, we're finally amazed to find
manual focus control
with a smartphone – it's super useful and provides for some interesting perspective shots.
Nokia Lumia 1020: official samples from the 41-megapixel camera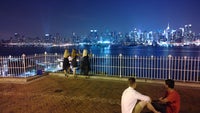 It's one thing seeing photo samples being shown off during a presentation, but it's totally another when it comes to real-world results. Most of the Nokia reps were showing off images that were taken previously, which really showed off the insane detail quality of the camera, but we were still skeptical about it. So with that in mind, we snapped a few photos ourselves to find out. Now, when you snap a shot, it saves it as a
5-megapixel sized sample, and the original 38-megapixel snapshot
.
Relying on the Nokia Pro Camera app to preview our images, we really can't say that we're blown by the results. Sure, we appreciate that it's able to handle dynamic range well in the rough environment of an events hall, but details further in the background seemed hazed. In fact, we tried reading the words on someone's press badge in the snapped photo, but it was just too soft and indistinct to visualize.
Naturally, we're bummed by what we're seeing, but we can't pass judgment just yet – mainly because the
units on hand aren't final production ones
. Therefore, we can still see tweaks between now and its release that would improve the final result. Plus, it would've been better to preview the images on a higher resolution PC monitor, as opposed to the tinier and saturated colors of the Lumia 1020's display.
Nokia Camera Grip:
Being a photo centric smartphone and all, the Lumia 1020 by itself can probably outgun and outclass some point and shoot cameras – and heck, it looks like one too. However, if you intend on getting the best results, the optional Nokia Camera Grip features some useful additions that deepen the handset's arsenal. For starters, this attachment modifies the smartphone's design enough to make it look like a point and shoot. In fact, there's a hump in the right side that would provide us with the necessary grip to hold it like a point and shoot. In addition, the shutter key on it is larger and more distinctive, and there's also a tripod mount on the bottom. And finally, it doubles as a battery pack too, seeing that it's outfitted with a
1,200 mAh battery
to juice the handset while on the go.
Expectations:
The Nokia Lumia 1020 is in a pickle of a situation at the moment, mainly because of its higher than expected price point of
$299.99 on-contract
– that's $200 more than the launch prices of its predecessors. No doubt, its 41-megapixel PureView camera might justify the higher cost this time around, but the more you look at the specs sheet, it's quite clear that this is still a Nokia Lumia 920 at heart. Nokia is talking big about its camera and whatnot, which is rightfully so, but it'll be up to consumers in the end to figure out if $300 is really worth the money. Heck, you can get some pretty decent point and shoots at around the $100 mark, when combined with the probably free cost of the Lumia 920 right now, it's cheaper than forking over your money on this. Well, if the handset can really deliver unparalleled detail quality that can't be matched, then it'll really hit the mark in being a valiant offering that can stand with the current greats.