Nokia Germany will now take your N8 pre-order and your money too
8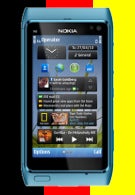 We were delighted to learn that the Nokia N8 is finally getting closer to official release, after spotting it
for preorder on the Nokia Italy website
. The quoted price there is 469 EUR ($610), for the unlocked device.
Now we are being tipped that the elusive handset has popped up on the Nokia Germany website as well, ready to be shipped to you for free after you wait for a yet undisclosed period of time. The price here is bumped a bit to 479 EUR ($627) - on the high side, unless the phone turns out all that Nokia touts it is.
The official website claims it is the only place you can buy the blue and orange versions of the handset from (in Germany, we guess), which should presumably take away the pain of the price tag for you.
Nokia N8 Specifications
|
Hands-on
Thanks, Evaristo!