Nokia E90 is the new Communicator
This article contains unofficial information.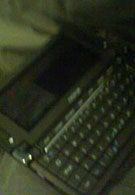 Enterpriseseries of the manufacturer, which will upgrade the Nokia 9500 Communicator to a newlevel. The rumors say that the E90 will operate on Nokia's upgraded S60 SymbianOS which will support both the large (probably QVGA) external display and thegiant internal wide landscape display, which is rumored to be 800x352 pixelsresolution. The E90 will have dual-hinge (side opening) which will allow tohalf-open it as the ENV for example or fully open it, making it flat – the largedisplay is on the one part, while the full QWERTY is on the other.
Other features will include Wi-Fi, and it will also have3.2-megapixel camera, but we guess there would also be a version without thecamera module.


Expect our hands-onexperience with the Nokia E90 Communicator from 3GSM in Barcelona, where we expect Nokia to showcasethe device.
Source: EngadgetMobile