Nokia E65 is a Symbian 3G Smartphone for the States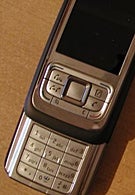 FCC just approved Nokia's new Enterprice-targeted Smartphone, part of its E-Series line. The E65 is quad-band world-roaming capable GSM phone, and the FCC documents show that it also supports US 3G (UMTS) frequencies (850 and 1900 MHz) which makes it a good candidate for Cingular (AT&T).
MobilMania.sk
got their hands on the new device, showing the way it looks and some of its specifications. The slider with internal antenna measures
4.2
x 1.85 x 0.55 inches (106 × 47 × 14 mm) has 352 x 416 pixels display and 2-megapixel camera. The internal memory is 70MB, expandable via microSD cards, and features USB (via Pop Port), Infrared, Bluetooth and WiFi.