Nokia E65 and E61i Enterprise phones
1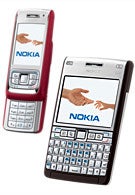 In addition to the E90 Communicator, the Enterprise targetedphones of Nokia are growing in number thanks to the E65 and E61i S60smartphones. Those two were also known from earlier rumors, but theofficial announcement reveals their specifications.



Nokia E65

is quad-band GSM with support for UMTS, but onlyEuropean band. Operating on Symbian 9.1, the smartphone has QVGAdisplay and 2-megapixel camera. Not very powerful device, it is packedin rather elegant slider design with internal antenna. E65 alsofeatures Bluetooth v1.2 and WiFi.



The

E61i

is the successor of the E61 and has thesame form-factor – it is wide clamshell with landscape display andQWERTY keyboard which reminds us of a BlackBerry. This one here adds acamera with resolution of 2-megapixels. Otherwise, its specificationslook identical and it is quad-band GSM with UMTS, featuring WiFi, USB2.0 and Bluetooth.


For more live images, check our hands-on report from 3GSM 2007