Nokia 6682 is now available from Cingular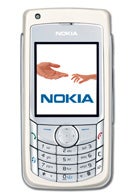 Cingular now offers Nokia 6682. It is available for $299.99 with a 2-year contract.
6682 is a tri-band 850/1800/1900 GSM/GPRS EDGE model for the Americas. It features bar form factor with a megapixel camera on its back. The display is 262k color with resolution of 176x208 pixels, typical for the Series 60 interface over Symbian Operating System, which the phone operates on.
Main specification:
262k LCD display

1.3 megapixel camera with LED flash and active slide cover

MMC memory expansion slot

Push-to-talk functionality

Full Internet browser

Music player
Nokia 6682 Specification
Nokia 6682 Review
Source: Cingular

Latest Stories
This copy is for your personal, non-commercial use only. You can order presentation-ready copies for distribution to your colleagues, clients or customers at https://www.parsintl.com/phonearena or use the Reprints & Permissions tool that appears at the bottom of each web page. Visit https://www.parsintl.com/ for samples and additional information.
FCC OKs Cingular's purchase of AT&T Wireless