Nokia 6620 just reveiled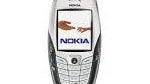 Nokia today unveiled the first smartphone, which is capable of working on EDGE high speed networks.
The phone features 65,000 color TFT display, integrated VGA camera, web capable
(HTML 4.01, WML and XTHML). The phone runs
Series 60 over Symbian operating system and has more then 40mb memory capacity
in its standard configuration. Additional features are global roaming
(850/1800/1900 MHz) and Bluetooth support. The phone is expected to be available
in the Americas
in Q2 of 2004.