Nokia 6215i - rebranded Pantech shows on FCC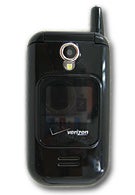 Pantech PN-315 was approved by the FCC a month ago – the images of the device showed it with Verizon Wireless branding on it and with no manufacturer label. Today, the FCC also gave thumbs up to the Nokia 6215i, which actually is a re-branded PN-315 - an entry-level clamshell phone with VGA camera and basic functionality.
Earlier this year Nokia and Sanyo announced preliminary agreement for merging their CDMA mobile phones divisions. In this light, the 6215i's FCC approval process was probably initiated before the agreement was reached. If the device is ever released by Verizon Wireless, it could be either under pantech's or Nokia's branding.
Nokia 6215i / Pantech PN-315 phone

Source:
FCC