No visual voicemail for the Palm Pre
14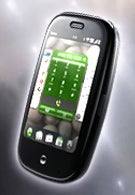 Though some future
Pre
users might miss it, Kirk Yuhnke has informed through Twitter that a visual voicemail feature will not be present on the smartphone. However, do not be disappointed, as you never know when a passionate individual would decide to develop their own. Of course, a later software update might also do the trick, but we would rather not count on that in particular.
Do you enjoy Twitter? phoneArena has one too!
Click here to follow us
.
Palm Pre Preliminary Specifications
|
Hands-on
source:
PreCentral