No Sense UI for existing Androids
This article contains unofficial information.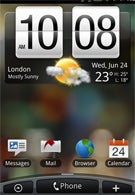 Sadly, it turns out existing Android smartphones, currently available through T-Mobile and Vodafone, will not get an update with the hot
Sense
personalization
, according to an HTC representative. Because of some licensing terms, the manufacturer is not allowed to deliver updates to "Google" branded phones. These include both the
T-Mobile G1
and the upcoming
myTouch 3G
, as well as the Magic, sold by Vodafone in Europe. This would certainly come as an unpleasant surprise to existing Android users, as yesterday
we thought there was a chance
to see Sense running on these. However, you never know, a good-hearted enthusiast might decide to port it on their own, right?
source:
MobileBurn