Nielsen on tablets: Much hype, but not many sales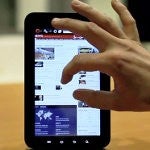 The tablet craze is sweeping the world, and this new step in the high-tech evolution is what everyone is talking about at the moment.
CES 2011
is just another example, and it is not a big secret that this year is touted as "the year of the tablets".
However, a report by Nielsen points that the general public is not as eager as you and us about tablets - according to the research firm, only
6%
of all 27 000 customers that took part in the survey, are thinking about buying one.
These are the facts at the moment, but the situation is sure to change with the upcoming flood of
first-class
tablets,
some of which
were introduced yesterday - this will ensure more quality and more quantity, which obviously means more great tabs and cheaper prices.
Anyway, are you planning to buy a tablet any time soon?
via:
Mashable