Nexus S turns you into the ultimate working machine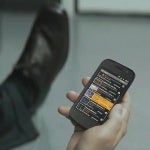 Doing long hours at work and asking formore? Workaholics just got a new inspirational video directed by GregBell and his love for Android. "El Vendor" follows the Lonely TV ads bythe same director, but this time it is all about Android and the Nexus S. Without spoiling the experience too much,we'll just mention that getting smashed by a vending machine andtrapped underneath it could hardly be a good excuse to stop workingwhen you have an Android smartphone. At least according to the series offive videos below.
Check out "El Vendor" and see all the amazing thingsyou can do while trapped under a vending machine - turns out that'sone place your cell phone is of crucial importance.
source: YouTube(Greg Bell) via Engadget