Nexus 7 Guidebook available in Google Play for free
5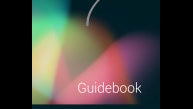 If you already pre-ordered your Nexus 7 tablet and just can't find enough reading material on the upcoming slate, Google has published the Nexus 7 Guidebook to hold you over. The Guidebook, which is essentially an instruction manual, is available for free right now.
In addition to the hardware itself, the Guidebook goes over basic Android features as well as all the new features that come with Jelly Bean and the new Google Now service. In typical Google style, the Guidebook is formatted beautifully and is clearly written.
You can head on over the Google Play store
here
to download the Nexus 7 Guidebook.
Recommended Stories