Nexus 4 returns to the German Play Store
10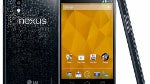 The elusive Google Nexus 4 smartphone is now finally back in stock at the German Play Store. If you've been looking forward to the opportunity to buy this inexpensive beast, now's the moment to act!
The
Nexus 4 also recently returned to the UK Play Store
, but overall, the Nexus 4's distribution was one big failure. The handset has been out of stock longer than it has been in-stock, and that's not simply because of the great demand, but due to supply problems. Google hasn't really sold so many Nexus 4 units, so the unexpectedly high demand can't be an excuse.
That said, the Nexus 4 is indeed a wonderful smartphone, which is still perfectly relevant from hardware standpoint. So, if you are looking for a great smartphone at a good price, you might want to consider this one.
via:
AndroidAuthority