Nextel Introduced the first iDEN bluetooth phone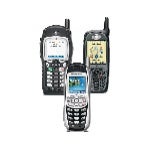 Nextel and Motorola today announced the availability of three new handsets - the i275, i355, and i605.
Motorola i605
The Motorola i605 the first rugged Bluetooth-enabled mobile phone. The rugged Motorola i605 handset features the new Nextel's Group Connect(SM) walkie-talkie service(1), which enables group walkie-talkie conversations nationwide, and a large screen that is optimized for outdoor usage to reduce glare from sunlight.Other features include:
GPS with turn-by-turn direction
Motorola i355
Motorola i355 is another device to feature rugged body which is certified to meet military specifications. Other features include color screen with 65k colors, MMS, and JAVA.
Motorla i275
The update to the i265 phones, the i275 adds built-in 0.3 mega pixel camera and off-network walkie-talkie. Other features include GPS, speakerphone, MMS and Group Connect.
Source: Nextel