Next version of Android will be called Froyo?
This article contains unofficial information.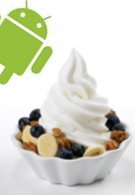 Sometimes you've really got to wonder who are the creative geniuses are who come up with the codenames for the Android platform. Continuing to follow their form with alphabetical pastry or dessert names, the next in line we all thought would become Flan. Instead, it's going to be aptly called Froyo which is short for "frozen yogurt." During the Engadget Show in New York City, their guest star was none other than Erick Tseng who is the Senior Product Manager of Android at Google. He broke the news and probably disappointed Flan fans around the world, but it would've been too unlikely to see Froyo as a candidate for such a prestigious award. Other than that one sweet tidbit of information, nothing else could be squeezed out about the next version of Android.
source:
Engadget