New iPhone application makes it easier to type e-mails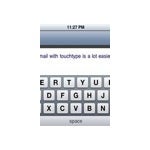 One of the common complaints of the iPhone is that you cannot actively switch from a portrait keyboard to a landscape keyboard - the type of keyboard in the application is determined by the software. This was a problem for several users, however it has been resolved with the launch of TouchType. When the application is opened, you get a landscape mode keyboard. When the e-mail is typed and the send button is pressed, it auto-populates the e-mail application.
The application costs .99, and can be found at Apple's App Store.
Source:
TechCrunch