New emoji pack? Puh-lease, real men use solid wood, says Ron Swanson
4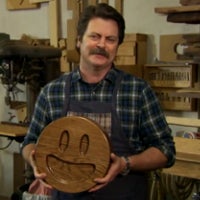 Nick Offerman is best known for his no-nonsense, stars-and-stripes appearance as chief Ron Swanson in NBC's sitcom Parks&Recreation, where he tosses computers in the trash when he learns about cookies, and... makes things out of wood, as every real man should.
He also has his own take on the emoji mania that is sweeping the homeland. That is way Nick Offerman was commissioned by none other but Conan O'Brien and his Team Coco to make a piece on an even more touching and individualized use of emoji to get your feelings across.
"
Nick's solid oak emojis are a more old-fashioned, more personal, more American mode of communication
," says the description, and they only sell for thirty bucks apiece, what's not to like.