New details about the Pantech Escapade WP8990VW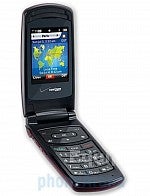 With the
Pantech Escapade WP8990VW
expected to release August 21st by Verizon, some more information about the device has leaked out. Features will include dual-band CDMA & quad-band GSM roaming capabilities with the included Vodafone SIM card, data is limited to 1x (no EVDO), 2MP camera, 2" 176x220
pixel
internal display with 262K color support, 1.1" 96x96 pixel external display with 65K color support, Bluetooth, WAP browser, 500 contact phonebook, 2.5mm headset jack, and supports VZ Navigator. Sorry, no microSD card slot. The Escapade will measure 3.9"Hx1.9"Wx0.9"D and will weigh 3.4oz. Included with the phone will be a wall charger with 3 international adapters, standard battery, SIM card, and user guides.
Pantech Escapade WP8990VW Preliminary Specifications
Thanks to a friend for the information!