New Verizon 4G LTE commercial to air Sunday night
9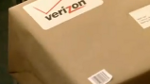 Sprint advertises its 4G enabled phones, and T-Mobile goes on the tube to brag that it has the largest 4G network in America. As we reported, Verizon recently put up signs in its stores saying that the carrier is
the fastest 4G network in the U.S.
Now, Big Red is taking its LTE promotion to television with a new ad discussing the lightening fast speed of 4G on Verizon.
Ironically, even though it is making claims about having the fastest 4G network, the carrier will not actually flip the switch on the speedy pipelines until next month when just a few cities get LTE. But what does it matter? Outside of a couple of LTE modems, Verizon won't have any 4G equipment to sell you until LTE enabled phones become
available next February
.
source:
Verizon
Recommended Stories