New Treos announced today by Handspring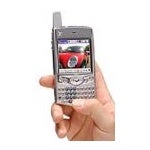 Handspring today introduced its new series of phone – Treo 600. The phone will be available in dual-band CDMA for Sprint version and quad-band GSM/GPRS version for Orange S.A. It features PALM OS 5.0, ARM processor, a built-in VGA camera for taking and sending pictures and setting up picture caller ID, dual speaker, MMC expansion slot and fully integrated QWERTY keyboard with a smaller, more phone-like form factor.
The first Treo 600 produces are expected this fall worldwide.