New Colors for Pearl, Gleam, and FlipShot
3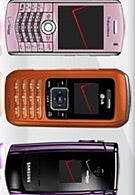 Starting today, Verizon has released the Blackberry Pearl in Pink, the Samsung Gleam in Purple, and FlipShot in Red.
They also list the enV in Orange and Green, but those has been around for a
few months.

All of the features still remain the same as the original colors, but most noticeably is the lower sale prices.
The Pearl (in Silver or Pink) is now $149 after rebate, the Gleam (in Gold or Purple) is $99 after rebate, while the FlipShot (in Black or Red) has dropped down to $149 after rebate.
Interesting enough, the FlipShot was originally $199 when it was released in November, then
jumped up to $299
the first of January, and is now on sale for $149.
Verizon is also advertising free activation and shipping on select phones ordered between Jan 25-28.