New Apple iPad ad says, "We'll Always"
32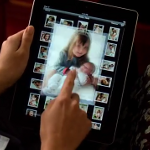 The
latest ad for the Apple iPad 2
has been released. In the spot, we see the tablet used for reminiscing over pictures, reading a book on the device, reading a recipe on the tablet, and following a favorite baseball team using the At Bat app. All of those things we will continue to do, as well as attend meetings, film home movies and learn new things.
In fact, while we will continue to do the same things that we have always done, the way we do them will be never be the same thanks to Apple's iconic tablet. Those who have added a tablet to their collection of mobile electronics would probably agree, and while the ad below is for the Apple iPad 2, how about some comments from tablet owners about how the device has made life easier for them.
source:
YouTube
via
TUAW