Netflix with let you stream to four devices at once with upcoming $11.99 family plans
5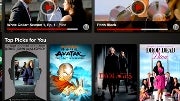 If you felt restricted by the two simultaneous logins your Netflix streaming account allowed before, now the terms and conditions of the new $11.99 plan will let you stream to four devices at once.
"A few members with large families run into our 2-simultaneous-stream limit. To best serve these members, we're shortly adding a 4-stream plan, at $11.99 in the U.S," says the Netflix quarterly results letter.
The company also comments that less than 1% of its members are expected to actually use the new offer, but is making it nonetheless for those who want to stream on tablets, smartphones, computers and TVs at once. No official date for rolling out the $11.99 family plan with 4-way streaming, but the launch shouldn't be far behind.