Netflix says HD streaming on its way to the new iPad
3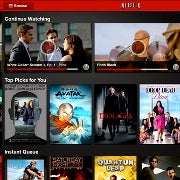 While the Netflix app menu has been updated to take advantage of the new iPad's high-resolution screen, the content itself hasn't. Yet. Netflix is streaming the same old quality that looks the same everywhere.
That's apparently about to change, though, as a Netflix's Joris Evers, Director of Corporate Communications, said "T
he video is not in HD yet. That is on our roadmap, but I can't share timing at this point
".
Cool, so there is a chance the new iPad will get 1080p video streamed to it by an ultra-popular movie service like Netflix. You know, like they already do for the new Apple TV. For now, you can get your HD fix only via the new ABC app, and stream Cougartown.