NYC may ban cell phone usage by taxi drivers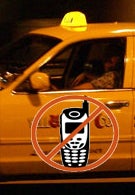 WCBS reports that the Taxi and Limousine Commission (TLC) in New York City is considering a list of changes to improve cab services. One of the discussed suggestions implies installing front seat cell phone jammers in order to prevent drivers from using cell phones. The blocking service will allow emergency calls and cabs will probably be equipped with navigation systems to provide information regarding the location and the traffic, but some taxi drivers are still reluctant to let go of their beloved cell phones.
You can share your improvement suggestions with the TLC until June 15, but first tell us what you think - should cell phones be banned to the drivers or not?
via
WCBS