NVIDIA talks up mobile graphics, says they'll surpass Xbox 360 next year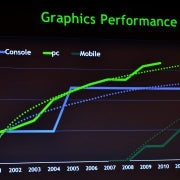 NVIDIA is hard at work pumping its mobile chips, and according to a new presentational slide, mobile GPUs are likely to hit the Xbox 360 performance level next year.
Now we are confident there will be a new Xbox by then, but the increase in mobile graphics performance has been exponential, as we can see from the graph, set on fire by the chipmakers competition to crush the benchmarks and get the users attention.
PC and console GPUs have experienced more steady and linear progress, hence NVIDIA's prediction that we will have an Xbox 360 console in our phones by 2014. Those solid lines track the estimated performance, while the dotted ones even things out to a trend.