NEC LT-W Cloud Communicator is a dual-screen Android tablet with a 3G option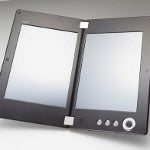 NEC's dual-screen Android tablet, the NEC LT-W Cloud Communicator, has two 7" resistive (yikes!) touchscreens with 600x800 pixels of resolution, and is running Android
2.1
. We guess NEC went with resistive, so you can use it more as a notebook, but it might have just shot itself in the foot, considering
Asus's new tablets
come with styluses as well, but the touchscreens are still capacitive.
NEC LT-W Cloud Communicator is certainly an impressive name, though, and the reasons we are mentioning it are the dual-display format, and the fact that it has the option for built-in 3G connectivity. Other than that, the specs list includes a 3MP camera, accelerometer, speaker, and the usual suspects Wi-Fi, Bluetooth, USB, SDHC and GPS.
Battery life is cited as five hours on a full charge, but mum's the word on pricing and availability for the time being. We are guessing pretty cheap.
via
SlashGear