Motorola's 11.6" Lapdock for the ATRIX 4G priced at $50 again, today only
1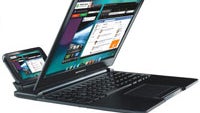 Those who overslept last time
1 Sale A Day was giving Motorola ATRIX 4G laptop docks for $49.99
, can do the exercise once again today.
The site is offering the 11.6" screen and keyboard combo that becomes a laptop when you dock the phone in it, for the said 50 bucks, plus $5 for shipping and handling.
Pretty good deal if you already own the phone, but hurry up, as the last time this offer was up, we had to put the "sold out" update sign up in the early afternoon.
AT&T had the dock for $50
at one time, after a pretty hefty $250 mail-in rebate, but today's your chance if you missed on that one too.
Thanks, Whateverman!