Motorola not done with Windows Mobile yet; all hail Caesar?
This article contains unofficial information.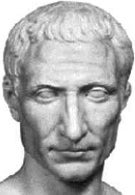 the story
before that the future of Motorola lies in the hands of the little green robot. After all, the Android slingin' Sholes seems to have captured the biggest buzz that the Schaumburg, Illinois based company has seen in years. But it doesn't appear that the company has totally given up on Microsoft's mobile OS. On the web site Linkedin, a profile posted by a person who claims to be a Senior Software Engineer for Motorola shows that his recent work experience includes joining a team developing a product called Caesar. It also shows that he has been working with a beta version of Windows Mobile 7.0. So from one profile, we learn that Motorola is still working on devices using Windows Mobile and we also learn that the timing is still on track for a mid-2010 delivery of Windows Mobile 7.0.
source:
Linkedin
via
MobileTechWorld
,
EngadgetMobile