Motorola introduces RAZR Z slider phone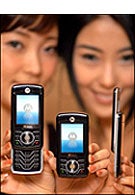 There have been rumors going on the net for some time that Motorola is working on a RAZR slider phone. These rumors turned out to be true as the company has introduced its ultra-thin slide-designed RAZR Z mobile phone. The new device is designed and developed by Motorola's team in Korea. The RAZR Z is only 14.8mm thick, which makes it one of the thinnest slider phones, available so far. There still aren't many details revealed about the device, although it is known that it sports:
2.2-inch display

1.3 mega pixel camera

MP3 player
The Motorola RAZR Z will be initially available in Korea by the end of this month for a price between 500,000 won and 600,000 won, which is about $516-$619. Afterwards the handset will be launched in Asia and then worldwide, but it's not known when exactly.
Source: The Korea Times