Motorola Zante is the next Sidekick
This article contains unofficial information.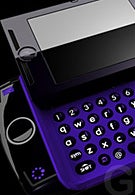 has information and pictures, of a a glossy Sidekick-inspired
Motorola Zante Q900
. Using the Danger OS used in all other Sidekick phone, the Zante will also come with the unique Sidekick form-factor and full QWERTY keyboard below the display, targeted to heavy textng customers. Of course, T-Mobile will offer it in the US, as it is with the other Sidekick phones, and the rumored price is $269 with the contract.
The Motorola Zante is a glossy Sidekick in combination of black and purple colors. Its display is 2.4" big with QVGA resolution, the camera is
1.3
mega
pixel
, it has
EDGE
, Bluetooth and miniSD card slot for expanding the 128MB internal memory.
Expect it in Q3.
source:
Gizmodo