Motorola XT560 makes an entrance: Android on budget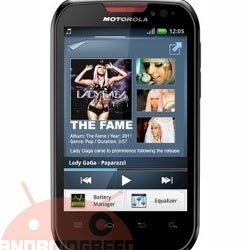 The
Motorola XT560
won't impress you with specs, but it promises to do so with its price. You guessed it right - the XT560 brings Android on budget and in a neat compact package. The handset should first get launched in Europe in the near future, and later arrive to other markets.
The Motorola XT560 allegedly features a smallish HVGA display, but the actual size is not known. There's also a 3-megapixel rear-facing camera, a 800Mhz processor, HSDPA 3G and Wi-Fi connectivity, all of that powered by Android
2.3
Gingerbread.
If it comes to US shores, the XT560 could well end up on some of the regional carriers, but up until now it's not even official yet, so don't hold your breath for it just yet.