Motorola Sholes and Calgary appear on Verizon's internal screens
This article contains unofficial information.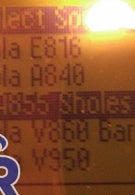 Verizon reps use a machine called a Cellebrite to move customers information from one phone to another. Well what do you suppose showed up on the machine after the latest update? A screen shot obtained by BGR shows two Android phones made by Motorola on the Cellebrite display, of course. The Motorola A855 Sholes (looks like that will be the name, at least for now) and the Motorola A555 Calgary are now both listed on the Cellebrite device. Perhaps this means that we are very close to an introduction of the phones, but for now, this is the latest info we have that proves the existence of both models.
Motorola Sholes Preliminary Specifications
source:
BGR