Motorola RAZR i promo video surfaces
6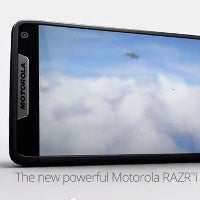 The
Motorola RAZR i
has just been announced and it's the first phone to break the 2GHz processor speed clock barrier. It packs a single-core Intel Atom chip and it basically the first mass market Intel-based device to hit Western markets starting with the UK, Germany and France.
Motorola is certainly putting its bets on this compact form factor where the device has comfortable to hold dimensions, but the screen is almost literally
edge-to-edge at 4.3-inches
. In addition, there is an extremely snappy 8-megapixel camera and the device features a full-day battery life.
If you're not after those huge screens, this definitely seems like a great option. So check out the promo below to see what Motorola wants you to know about the new RAZR i.
source: Motorola