Motorola Q9c announced in Lime Green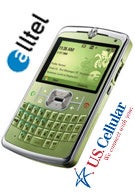 It's not only Verizon who is late with the Q9c announcement (well, VZW was first with Q9m), but also smaller carriers such as Alltel and U.S. Cellular. The latter two get bonus though: in addition to the black variant, they will also offer the new hot Lime Green one. Some may be skeptic about such color for a business phone, but in our opinion it is pretty. Add the Windows Mobile 6 Standard Operating System, and you have a nice phone, yet full of features.
Alltel expects to launch the device this summer, at $100 after $100 mail-in-rebate. U.S. Cellular doesn't provide information on availability or pricing.
Motorola Q9c
Specifications
|
Review
via
Crave