Motorola Q will be available for the Holidays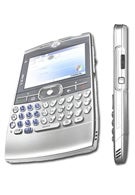 Motorola announced that they expect Motorola Q to ship for the Holidays. Earlier Motorola announced that it should be expected in Q1 2006, but obviously they've rushed to get it ready before the holiday shopping rush is over. Still there is no official announcement about carrier, but we guess Motorola will start both GSM and CDMA versions of the phone at the same time.
Motorola Q is a Windows Mobile smartphone, running on version 5.0 (Magneto). It features a smartphone functionality and a full QWERTY keyboard in only half inch thickness. On its back it has 1.3-megapixel camera with LED flash.
Motorola Q Complete Specification
Source: Smartphone Thoughts