Motorola Moto X hands-on
45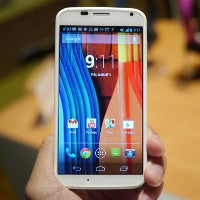 Camera:
Armed with a
10-megapixel Clear Pixel camera with LED flash
, it's the same exact one featured with the new DROIDs – surprise, surprise. Essentially, it employs a RGBC sensor, with the C standing for Clear, which enables it to actually collect up to 75% more light than your normal RGB Bayer sensor. Knowing that it's also packing an
f2.4 aperture lens
too, you know that it's also going to be a serious contender with low lighting shots. In fact, Motorola showed us some sample photos taken with the handset. Even when there's fast movement in the scenery, such as a little kid running or water coming out from a fountain, the camera is able to capture everything with a high level of clarity and crispness. Who knows how it'll turn out with our real-world scenarios, but we're curious to see the results ourselves nonetheless.
As we've detailed already, the handset's
Quick Capture Camera feature
enables us to quickly get into the camera app. Looking around the UI, they've changed the look and style just enough to make it seem like we're actually using a standard camera, seeing that a rotatable menu is accessible by swiping to the right – offering us access to different settings and options.
Expectations:
The rumors pointed to a $300 outright cost for the Moto X, but that's not the case with this announcement. Rather, it's going to be available for
$200 with a 2-year contract
– with no word regarding outright pricing or its future Google Play Edition version. When we look at the hardware underneath the handset, it won't blow many people away, but it really doesn't have to. For Motorola, the customized experience in designing the handset is enough to make it an appealing option for those who want to be different. It's comprehensive, which is nice.
However, we feel as though that the announcement of it
coming to all the major wireless carriers in the US
is the best news of them all. Why is that? Well, Verizon has been the only carrier to get the brunt of Motorola's love, which continues to be the case with the new DROID line. As for the rest, like Sprint, AT&T, T-Mobile, and US Cellular, it's been a long, long time since they've seen anything noteworthy from the phone maker. Will it have enough to stand equally with the greats out there? Time will surely tell.