Motorola Marco updates Z3 with WiFi
This article contains unofficial information.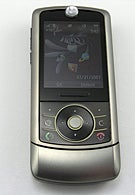 team revealed images and information on a new yet unannounced Motorola RIZR phone with the code-name "Marco", featuring WiFi for UMA functionality (as the one used in T-Mobile @Home). The new phone looks very similar to the RIZR Z3 that is currently available with T-Mobile and has similar specs including quad-band GSM and 2-megapixel camera.
In addition to the WiFi, another new thing is the OS, which is JUIX (Java-Linux) as the one used in the ROKR Z6 and RAZR V8.
Source:
BGR