Motorola DROID vs. BlackBerry Storm2 in Verizon Video showdown
This article contains unofficial information.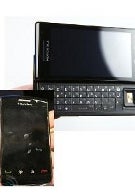 About a week ago, the Motorola DROID took on the BlackBerry Storm2 in a battle of top Verizon smartphones. Even though the video is a week old, we thought that those of you trying to decide which phone to buy might appreciate seeing this smackdown in action. And while we don't want to give anything away, check out the speed of the browser on the device that won the browser speed test. This alone might help you come to a decision. Anyway, in this corner we have the Storm2 9550 and in the other corner, it is the Motorola DROID. Let's get ready to Rummmmmmmmmble.
Motorola DROID Specifications
|
Review
RIM BlackBerry Storm2 Specifications
|
Review
source:
BerryReporter